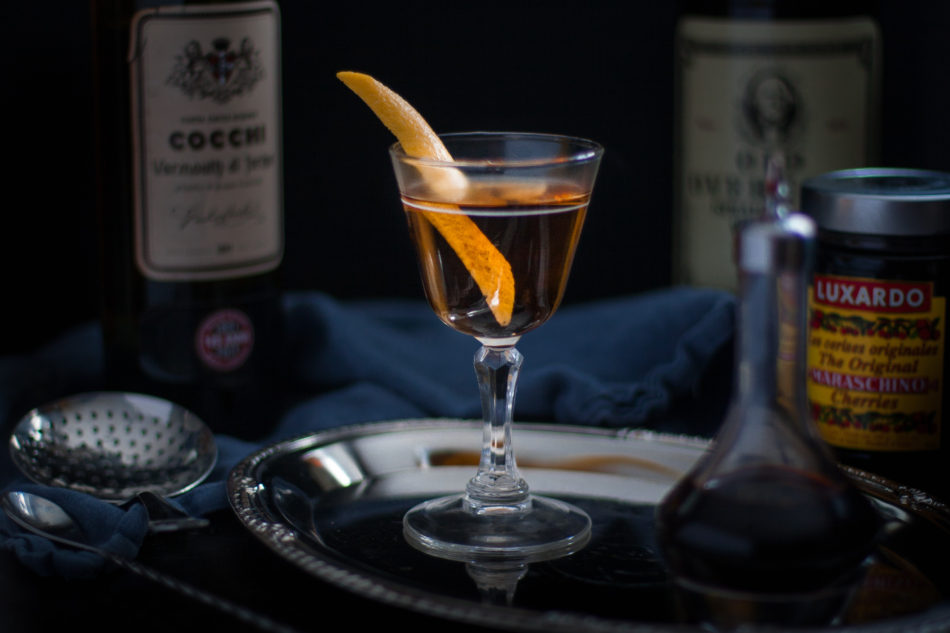 I am not sure how many times I have heard the story about how my great grandmother would mix herself a quart of manhattans in anticipation of a family dinner party. How much truth is there to that? I'm not sure nor do I really care, but I always get a slight nostalgic feeling when I drink one just imagining her doing the same.
The manhattan was the first cocktail I ever sipped and the first I learned how to make so I thought it appropriate that this be the very first article. A manhattan has a a touch of sweetness, and a nice kick from the rye, while the vermouth and bitters really round everything out.
Like with many classic cocktails, it is not known exactly who created this beauty but it has been around since the 19th century and it is here to stay. There are a few different variations but this is the simplest and most straightforward, and and is also my favorite.
Since there are only a few ingredients I encourage you not to skimp on the quality. That being said, you certainly don't need to break the bank on some top shelf whiskey here either.
The cocktail can be made with any whiskey you prefer but my favorite here (and the classic choice) is a simple rye. A profile with a little pepperiness, warm baking spices, vanilla and a slight fruitiness will work great and can be found easily.
A nice mixing rye that can found almost everywhere is Old Overholt, it is used in bars and restaurants all over and is also what I use for cocktails.
As for vermouth, there are many solid options out there with a good bit of variance between them. They all have different strong points and you will only be able to tell what your favorite is by slowly trying as many as you can. Please stay away from anything you can buy a gallon bottle of for $10 as you will probably be pretty disappointed.
Carpano Antica is typically the benchmark and noted for its' intricate complexity and balance of sweet and bitter. ($30)
Dolin Rouge is a slightly drier, lighter bodied french sweet vermouth with a nice spiciness that can pair nicely with a rye whiskey. ($15)
Cocchi Vermouth di Torino has been my choice as of late for its warming sweetness and nice light herbal and baking spice notes. ($22)
Punt e Mes makes a very nicely balanced manhattan with its' two parts sweet to one part bitter composition. ($20)
Boissierre If you're looking for a bargain bottle this is it. Solid full bodied vermouth with nice dark fruit flavors that fade off into a slightly bitter finish. ($9)
Ingredients
2

oz

Rye Whiskey

1

oz

Sweet Vermouth

3

dashes

Angosutra Bitters

Orange Peel

1 Maraschino Cherry

-

(optional garnish)
Instructions
Add the angostura, vermouth and rye to a mixing glass.

Add ice and stir until desired chill and dilution is reached.

Strain into a chilled cocktail glass or a rocks glass with ice.

Express oils from the orange peel, either drop it in as a garnish or discard.

If you feel like it drop in a nice maraschino cherry.
Tag me at
@mydrinkinghobby
when you make this!