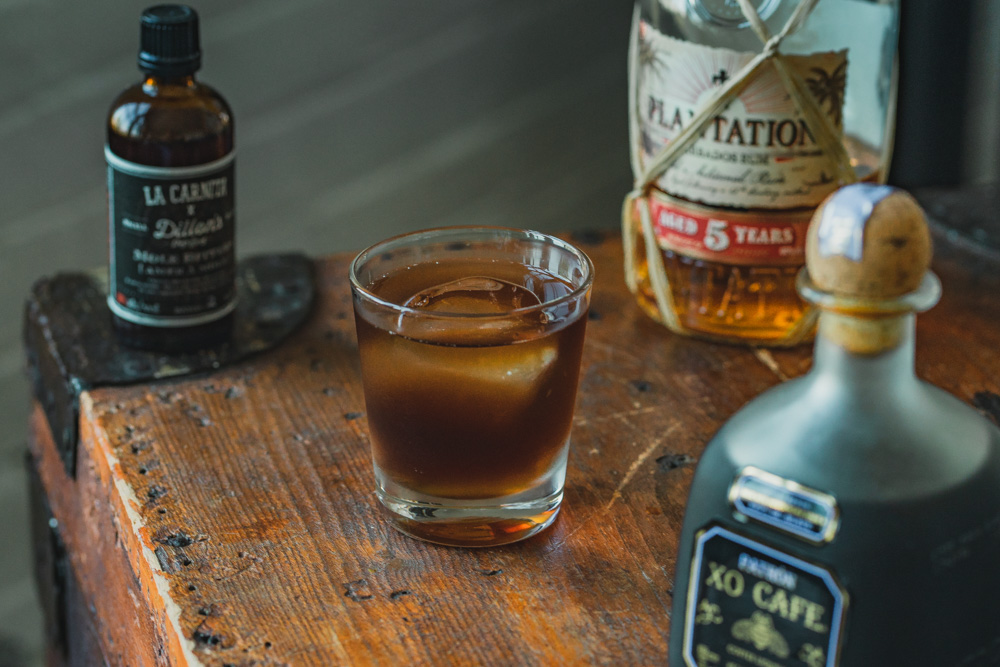 The Called Shot cocktail, inspired by my favorite Halloween candies.
This is for sure one of the most straight forward and least thought out cocktails I have come up with, and sometimes that makes for the best drink.
There are no homemade syrups or unique processes, just add the stuff to the glass and stir.
Maybe you haven't heard of one or two of the ingredients but they were all chosen for their similarity in flavor to the components of a candy bar.
It's a Halloween themed cocktail in disguise.
There's already lots of apple recipes, black drinks and wild garnishes out there. I'm not hating on them and I'm down for all of those things, but here's something a little different.
My favorite candy bars
I've never been one to go for the gummies, chewy things or fruity candies.. I pretty much stick to chocolate bars at Halloween. Dumping your candy haul on to the floor and trading your friends for the candy that you actually wanted was a big highlight of my year, so here's a tribute to that night.
Snickers, Baby Ruth and Butterfinger were always at the top of my list so I created a cocktail inspired by those trick or treating classics.
In narrowing it down to one for the drink to be related to I honestly chose Baby Ruth because it had some of the most unique history (according to the reliable and ever-accurate Wikipedia).
I needed to be a bit more creative than calling this drink the Snickers, Baby Ruth, or some derivative of those names, so I did a little digger into the history of the bars.
It is reported that there was some sneaky business with the origin of the bar's name where the owner of the Curtis Candy Company claimed that the bar was named after Ruth Cleveland (the former president's daughter) so as to avoid having to pay the famous baseball player any royalties. The fact that the name coincided with one of the nation's beloved athletes supposedly had nothing to do with it…
But despite claiming that the bar was not named after the Babe himself the Curtiss company put up a large illuminated sign over the location of where Babe's famous "called shot" home run landed in the 1932 world series. They never did pay Babe Ruth any royalties.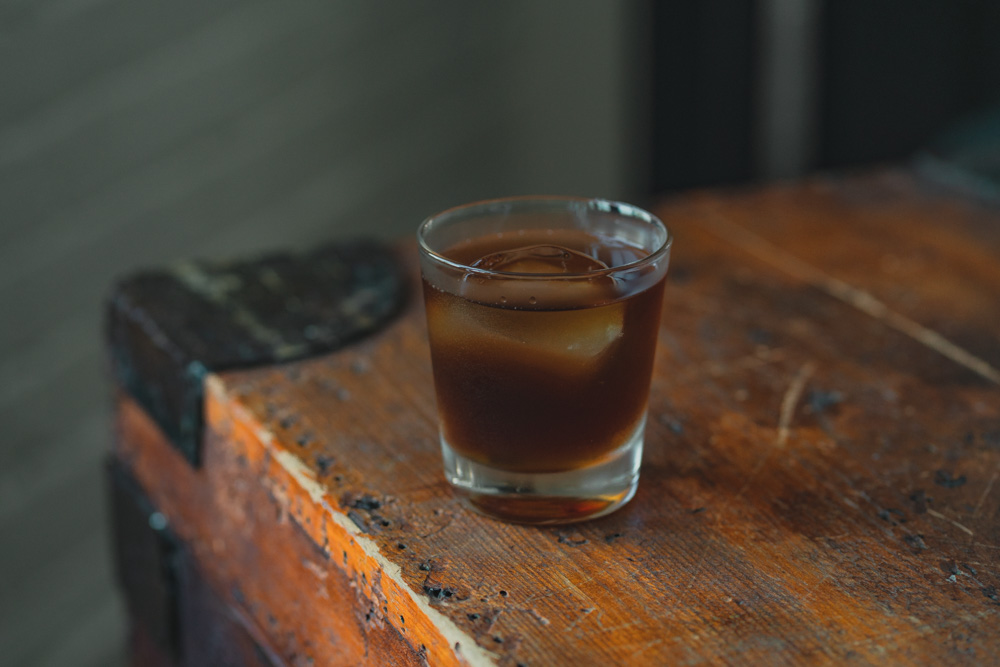 SHARE THE CALLED SHOT COCKTAIL
[social_warfare buttons="Facebook, Pinterest, Twitter, Email"]
Stirring everything up
The reason I say this is such a straight forward cocktail is because I essentially just starred at my home bar and picked out ingredients that taste like chocolate, nuts and caramel.
A good dark mixing rum will do the trick here, something like Platation 5 year that has lost of vanilla, toffee and butterscotch notes to it without tons of funk or fresh cane flavors.
Nuttiness is contributed from both the Amontillado Sherry and Frangelico, which both have notes of hazelnut. No, it isn't peanut like the candy bars but it's close enough and it's fine by me to deviate from the initial inspiration.
Frangelico has a really rich dark nut flavor whereas the Sherry brings a more acidic and bright side to the nutty spectrum, and together they sort of balance each other out to avoid complete over sweetness.
Patron Cafe I purchased at a local liquor store for 7 dollars on sale not expecting all that much only to find it works pretty well as a flavor modifier.
It is technically a tequila coffee liqueur but it has plenty of sweet chocolate flavors that make it work in the Called Shot. And last for the mole bitters.
I thought what else would go nice as a finishing touch and , just like all the other ingredients in this drink, it seemed kind of obvious. The boost the chocolate flavor and add the tiniest hint of spice which helps break up the sweetness.
Overall, the Called Shot is extremely simple and a little on the sweet side, but that's what Halloween is all about.
Cheers!
USEFUL LINKS: Stirring Drinks
Called Shot Cocktail Recipe
Ingredients
1 1/2

oz

A solid dark rum

1/2

oz

Amontillado Sherry

1/3

oz

Frangelico

1/3

oz

Patron XO Cafe

4

dashes

Mole Bitters
Instructions
Add all the ingredients to your mixing glass.

Add ice and stir until desired chill and dilution is reached (about 20 seconds).

Strain into a chilled cocktail glass with or without ice.
Tag me at
@mydrinkinghobby
when you make this!