Compliment the classic flavor of Guinness with sherry and coffee.
After Arthur Guinness inherited 100 pounds from his late Godfather, he signed a 9000 year lease for the property at St. James's Gate where Guinness beer is brewed to this day.
The lease has since become obsolete as Guinness has expanded and purchased land to expand its' brewing operations, but their beer and tradition has lived on.
It's cool to see a brewery like Guinness continue to thrive and adapt in a modern market that sways largely in the direction of those that prefer extremely mild and simple pilsner type beers.
The idea of the Nine Thousand cocktail
To honor the tradition behind one of the iconic beers of the world, I used ingredients intended to highlight the existing flavors of Guinness without altering things too much.
Notes of nuttiness, coffee and chocolate and a smooth creamy texture come to mind, so I included ingredients that would boost those highlights.
Sherry can be a really nice way to add unique depth to drinks and an Amontillado works perfectly to bring in a bright nuttiness as well as some acidity to tie in the orange zest finish.
Guinness is full of chocolate and coffee notes, so adding a coffee liqueur is a no-brainer.
You can experiment with which coffee liqueur you use since many smaller distilleries have high quality options that are all unique, but the old standby Kahlua will work well too.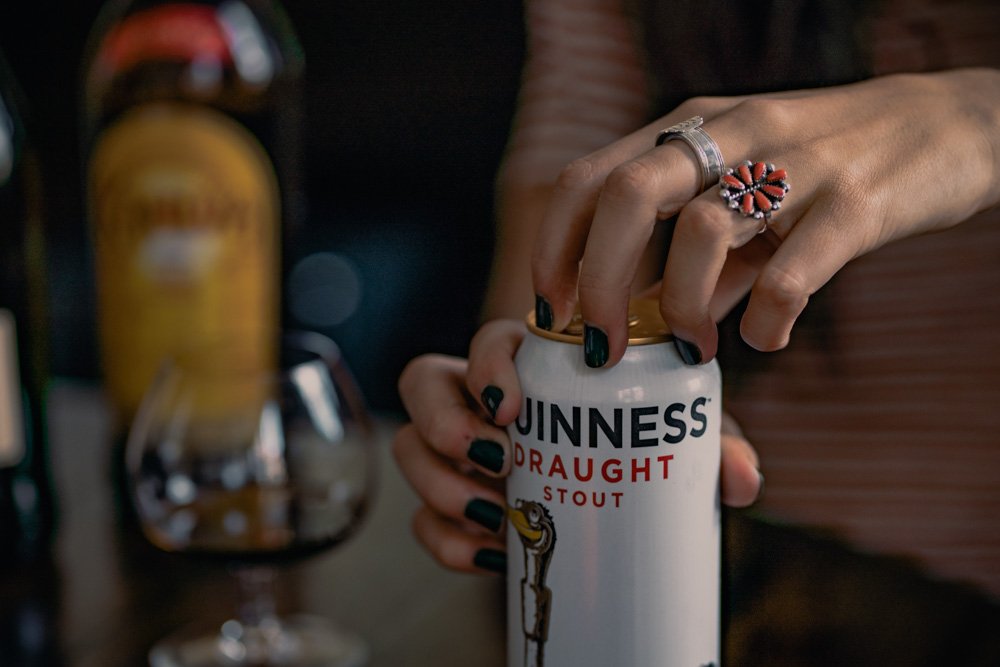 SHARE THIS COCKTAIL
[social_warfare buttons="Facebook, Pinterest, Twitter, Email"]
The creamy head for this Guinness cocktail
A Guinness poured on Nitro has a deliciously thick and creamy head that is one of the key elements that I wanted to be sure to capture with the Nine Thousand cocktail.
One way to do this is by pouring on a layer of lightly whipped cream to a finished drink the same way you would do when making an Irish Coffee.
Then as you sip the drink you get a little bit of that thick cream with the dark rick flavors of the cocktail… it's just awesome.
To make a lightly whipped cream add half a cup or so of heavy cream to a mason jar with a splash of vanilla. Cap it and shake until it reaches a thick pour-able consistency slightly more runny than brownie batter.
You are looking for something thick and creamy without making it so thick it doesn't run.
If you thicken it too far just stir in more heavy cream a bit at a time until it is all the right consistency.
Pull Everything Together
The making of this cocktail is pretty simple but a few small steps will help make it better.
Have the Kahlua, Sherry and Guinness chilled before you make the drink.
There is no stirring with ice for the Nine Thousand so you drink will only be as cold as the ingredients are before you start. Oh, chill your glass first too.
Lastly, I encourage you to use orange bitters and some zest to take the drink up a notch. You could make it without of course, but the combination of orange with the vanilla cream makes it seem a bit more dessert like without adding any extra sweetness. It's delicious.. try it.
Cheers!
JOIN THE MAILING LIST
Nine Thousand Cocktail Recipe
Ingredients
1

oz.

Coffee Liqueur

3/4

oz.

Amontillado Sherry

5

dashes

Orange Bitters

6-7

oz.

Guinness Draught

1/2

cup

Heavy Cream

1

tsp

Vanilla

1

Piece

Orange Peel
Instructions
To get the best results for this cocktail put the Guinness, Coffee Liqueur and Sherry in your fridge for 30 minutes ahead of time.

Prepare the Heavy Cream buy adding about 1/2 cup to a mason jar with the vanilla and shaking vigorously until it reaches a thick pour-able consistency that is NOT solid like typical whipped cream

Add the Bitters, Sherry, and Coffee Liqueur to a chilled glass (fairly large) then top with the Guinness leaving about 1/2 an inch of space.

Now slowly pour heavy cream so that it floats on top of the drink.

Express the oils of the orange peel over the finished drink and discard.
Tag me at
@mydrinkinghobby
when you make this!
WHERE TO FIND THESE INGREDIENTS: Vanilla, Orange Bitters