Like a balanced adult apple pie.
The Apple Crisp cocktail took a little bit to come together something like the way I imagined it.
The baseline flavor combination of apple, cinnamon and lemon is in no way revolutionary, but tweaking the balance to get a drink in between sweet apple dessert and and dry fruit flavors took a few tries.
I had planned from the start to go with a combination of tequila and Cynar because I think tequila plays nicely with the underlying smokiness Cynar carries. Tequila itself often has smokiness and together with the Cynar it serves to create contrast to the sweet and simple apple pie theme with a bit of herbal earthy smoke.
But I missed on the balance a few times…. because I tried to use apple juice.
Fresh apple juice tastes really incredible on its own but in this instance did not work for the end result I was after.
Starting with 1 1/2 oz of tequila and a bit of Cynar meant that in order to get a nice apple flavor to come through I had to use too much juice making this an extremely large drink that was very thin. And if I used the smaller amount of apple juice I thought I was going to need, the drink was a nice size and texture but the tart lemon and dry smoke from the tequila dominated.
In comes apple syrup
Fruit syrup is a way to bring in the vibrant flavors you are after, along with ample sweetness, without adding too much liquid.
The topic of syrups creates a bit of organizational OCD in my mind because I would like to only use one method to make all syrups, or even two or three that apply to specific categories, but that just isn't the case.
Take grenadine for example. It is just a pomegranate syrup with a few added flavors, but it is transformed into a new flavor that is absolutely different from if you macerated pomegranate seeds with sugar to create a simple syrup.
I know it isn't that big a deal but I wish that all fruit syrups were made the same.
You can also make two very different syrups out of the same fruit.
The maceration and "grenadine" methods will give you two unique syrups from the same fruit, and that is the case when you use apples. For the Apple Crisp cocktail I wanted to capture a sense of fall apple pie flavor so I chose to use the grenadine method of juicing the fruit and cooking it down with other flavors into a spiced apple syrup.
You can check out the full blog post for Apple Syrup HERE.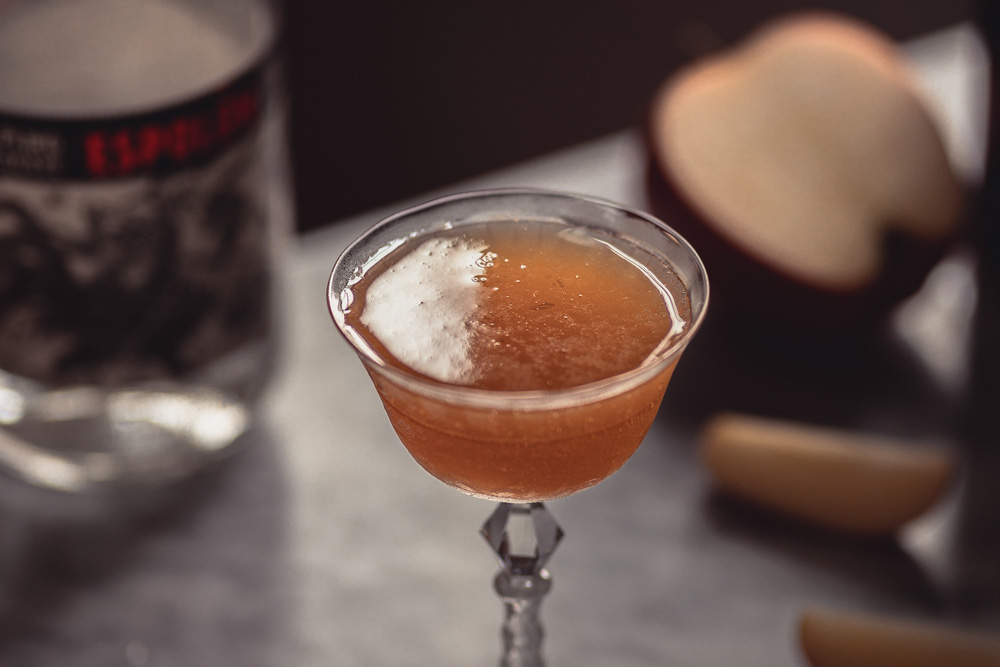 SHARE THE APPLE CRISP COCKTAIL
[social_warfare buttons="Facebook, Pinterest, Twitter, Email"]
Bring it all together
Ounce the apple component was dialed in there was not much to do from there.
The deal with tequila is the same as with every other spirit you purchase for making cocktails. If the price seems too good to be true, your cocktail with truly not be good.
Buy a solid mid market tequila in the 20-30 dollar range. The market for tequilas includes many higher end options with select barrels and single origin options available, but save those for drinking outside of shaken cocktails.
Nice mixing blanco tequilas include: Pueblo Viejo, Don Julio, Gran Centenario, Espolon, and Tres Agaves. No matter what you choose, grab a blanco and something that says 100% pure agave.
The last unmentioned ingredient is cinnamon tincture which I realize not everybody will have handy.
It is made my infusing Everclear or a very high proof vodka with cinnamon sticks or chunks. Simply put 2-5 sticks in a clean glass container and add Everclear to cover. They flavor will start to come out nicely in a few days but you can leave it infusing for several months. As it goes on the flavor will start to develop into more of a spicy cinnamon candy flavor and you will only need a few drops to flavor things.
The state my tincture is at is the cinnamon candy like fire water described above. I only needed two drops of mine to add a some boosted flavor to the apple syrup but you may need a few more drops for younger tinctures. Use your judgement and taste in the shaker as you are adding the drops in.
If you don't have cinnamon tincture you can either add a tiny pinch of powdered cinnamon to the shaker, or you could just make your apple syrup with more than the recipe suggests. The only reason I didn't add more to the syrup is I want to use that syrup for other cocktails without having such a prominent cinnamon note.
Cheers!
USEFUL LINKS: Shaking Drinks, Apple Syrup
Apple Crisp Cocktail Recipe
Ingredients
1 1/2

oz

Blanco Tequila

1/2

oz

Apple Syrup

1/2

oz

Lemon Juice

1/4

oz

Cynar

2

drops

Cinnamon Tincture
Instructions
Add all the ingredients to your shaker.

Add ice and shake for about 12 seconds.

Strain into a chilled cocktail glass.
Tag me at
@mydrinkinghobby
when you make this!