The Widow's Peak, a balanced rum Old Fashioned.
I am excited to bring you another installment of the Custom Cocktail series!
As a way to share some cocktail love around the internet, I have started a little collaboration series will I make a custom drink for somebody based on their preferences. I ask their favorite spirits, what sort of flavors they enjoy, and whether they already have any ingredients they would like to put to use.
Kinda fun right?
The Widow's Peak was created for a fellow blogger Majolein who writes about fashion, travel, and hot spots across the world. But, what caught my eye was her interest in good food and drinks, so I reached out to see if she would be interested in a custom cocktail.
She gave me simple and easy to follow guidelines. There were not any spirits or ingredients that she wanted to use, but she told me here favorite drinks were both sweet and sour, and that she like the combination of rum, sugar and lime.
The last instructions she gave were that she is okay with a little bit of complication, but nothing over the top, and she also prefers stirred drinks… rum Old Fashioned riff it is!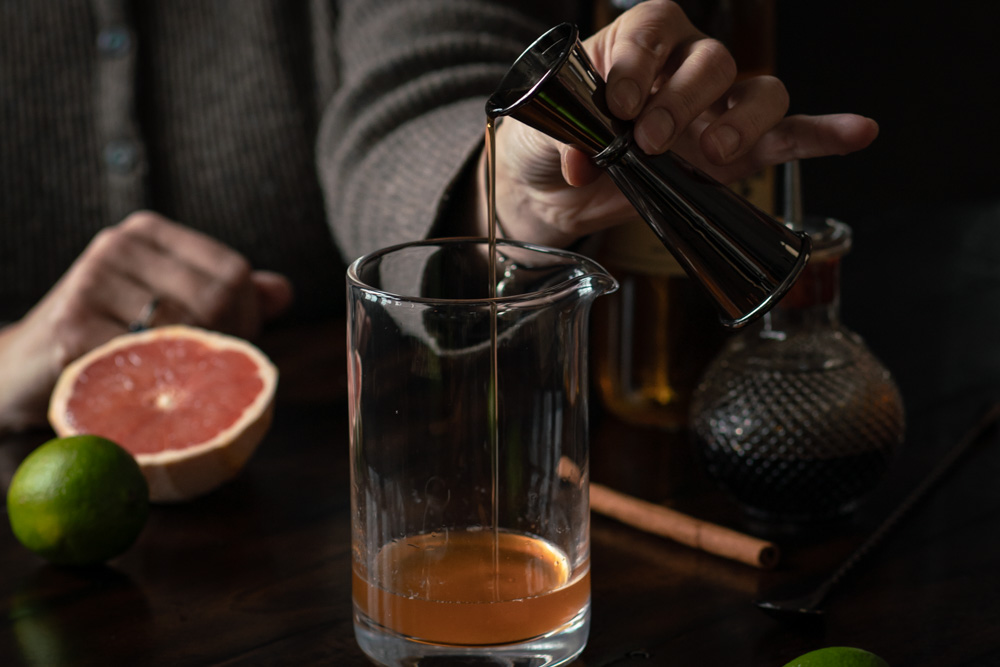 Tweaking the Old Fashioned
Technically, anything with spirit, bitters, and sweetness is an Old Fashioned, which means that there are infinite variations on the classic cocktail.
It provides the perfect template to riff off of!
You could switch out or combine base spirits, use any type of sweetening ingredient, or choose from the endless selection of flavor modifiers.
We are going to BREAK SOME COCKTAIL RULES with this version of a rum Old Fashioned. Typically and cocktail that has citrus gets shaken, but we are going to stick to stirring regardless.
SHARE THE WIDOW'S PEAK
[social_warfare buttons="Facebook, Pinterest, Twitter, Email"]
Using citrus in a stirred cocktail
Since we are adding citrus juice the Widow's Peak is not going to be beautifully clear when it's finished, but that's not a big deal.
Rules are made to be broken, and if the person drinking the cocktail wants it a certain way then that's the way it should be made!
There are a few things you can do when you use citrus in stirred drinks.
1. Go through the process of clarifying juice to keep the look and texture of a stirred drink.
2. Pour the juice through a fine strainer and just use it how it is.
Here I opted for option two. Majolein told me that she wasn't looking for anything over complicated, and using regular citrus juice will do the job perfectly fine!
If you are running a fancy cocktail bar, or are a total perfectionist at home, it's totally cool with me if you want to make beautifully clear juice, but I am going to skip it for this rum Old Fashioned.
Ingredients
The only choice you really have here is what type of rum you are going to use.
You could use just about anything. I would recommend you stick to aged rum, but other than that knock yourself out. If you have a favorite already use that, or you can go for one of these options.
1. Plantation 5 yr: one of my favorite go to rums. It has tons of toffee, vanilla and classic winter spices without tons of strong rum "funk" which makes it go well with all sorts of different flavors.
2. Pusser's: This would be a cool option in a rum Old Fashioned for all of it's deep burnt sugar flavors. It also has a little of that overripe fruit and butterscotch funkiness, which would work well with cinnamon syrup.
3. Scarlet Ibis: This is the most complex and intricate rum of the three. It has a nice sweet vanilla finish to it, but the initial flavor is full of all kinds of baking spice and dry fruitiness. A really awesome rum.
As for the citrus, just buy the nicest limes and grapefruits you can. Simple as that.
Angostura bitters are the remaining ingredient that can usually be found in the mixers section of your grocery store. Any other type of aromatic bitters could also be substituted in if you would prefer.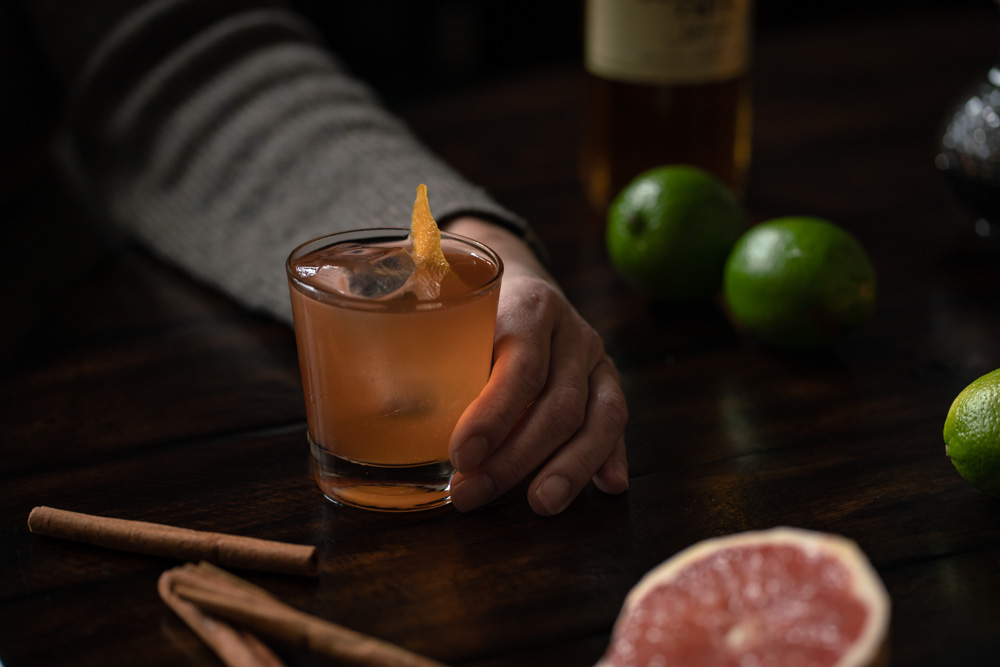 Make a cinnamon syrup
This is incredibly easy, so DO NOT let this scare you away from making this cocktail.
It is simply a 1:1 ration of sugar to water with a few cinnamon sticks added to release all of their flavor.
To compliment the rick flavors of cinnamon, pick a dark sugar like Demerara, Turbinado or Muscavato. If you cannot find any of those you could also use light brown sugar, cane sugar, or a mix of any of them.
TO MAKE THE SYRUP:
Add 150 grams of sugar and 150 grams filtered water to a small saucepan.
Crack two cinnamon sticks into pieces and add them in.
Place on the stove over medium heat and gently simmer for 15-20 minutes with a cover.
Let it rest off of the heat with a cover for another hour to infuse more flavor.
Strain into a storing container and keep it in the fridge for up to 2-3 weeks.
It is a really simple process that can be used with many different dried spices to create unique syrups for your cocktails.
Marjolein, I hope you get the chance to make this cocktail sometime soon!
I would love to know what rum Old Fashioneds, or other variations, you guys are making.
Cheers!
USEFUL LINKS: Stirring Drinks
The Widow's Peak Olf Fashioned
A rum Old Fashioned with cinnamon, lime and grapefruit
Ingredients
2

oz

Aged Rum

1/3

oz

Cinnamon Syrup

1/4

oz

Lime Juice

1/4

oz

Grapefruit Juice

3

dashes

Angostura Bitters

1

Grapefruit Peel

-

(optional)
Instructions
Add all of the liquid ingredients to your mixing glass.

Add ice and stir for about 25 seconds.

Strain into a chilled cocktail glass or a rocks glass with ice.

Express the oils from a grapefruit peel over the top of the finished drink if you would like.
Tag me at
@mydrinkinghobby
when you make this!