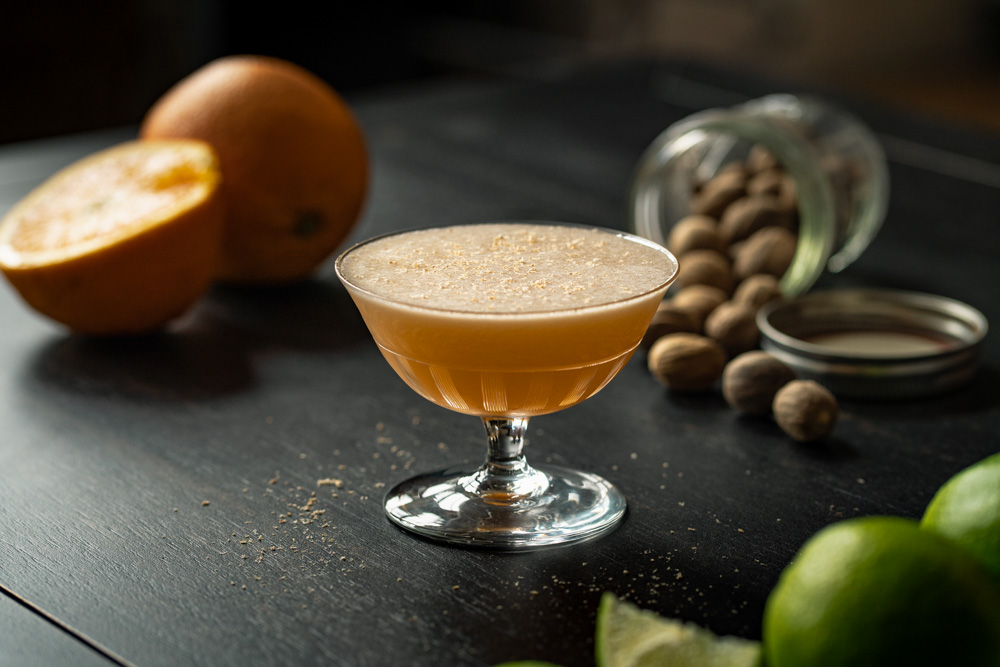 The Fruity Banana Daiquiri of Your Dreams, the "Bad Habit".
Yes, I really mean that.
Full disclosure, I am certainly a little biased seeing as fruity rum drinks are a real weakness of mine, but seriously…
We all like a refreshing fruity cocktail, right?
Playing off the flavors of classic cocktails recipes is a great way to create all sorts of different flavors with your homemade drinks and the possibilities are endless, but you're here to add some banana flavor. So let's get into it.
Here's how I make a Banana Daiquiri
The basic structure of the cocktail does not change seeing as the standard Daiquiri ingredients of rum, lime, and sweetness all present, but just a few tweaks go a long way.
So how do you get the banana flavor?… It's simple, homemade Banana Syrup!
Making homemade syrups is one of the best ways to add flavor to cocktails, and bananas work perfectly since they have so much moisture. The process of actually making the syrup requires very little work on your part, but THE REWARDS ARE WORTH EVERY SECOND OF IT.
But keep this in mind.
This is not meant to be exactly like the classic version of a Daiquiri. This version has a bump of extra sweetness that works well seeing as it's a fruit forward drink, and the fresh grated nutmeg on top transforms this into something totally unique.
Some other versions
There are lots of versions of this cocktail floating around the internet. As with all renditions of the Daiquiri it has been tweaked, sweetened beyond belief, blended with crushed ice, or made with some sort of cheap Daiquiri mix.
Don't get me wrong, I'm always down for a well made blended drink (and a reasonably sweet one too) but some recipes you come across have no balance happening and are just way to sweet for my liking.
But if that's how you like it I'm not stopping you!
The most famous version seems to be the St. Thomas frozen Banana Daiquiri made at the Mountain Top bar.
If I was visiting on a smoking hot summer day I would for sure be drinking those. Even if there seems to be no signs of a balanced drink with whole bananas, banana liqueur and sugar all going in the blender, when you're at a famous place like that you just drink it how they make it.
But for this "Bad Habit" recipe we are going to go with a more traditional template that adds orange juice as another flavor modifier.
LIKE THIS RECIPE? Share it: [social_warfare buttons="Facebook, Pinterest, Twitter, Email"]
The ingredients to use
Aside from making yourself some Banana Syrup, you will need..
A good bottle of white rum: I like Plantation 3 stars, El Dorado 3yr, Banks 5 yr, or Flor de Cana 4 yr for mixing in cocktails.
Nice citrus: Choose ones that feel nice and heavy for their size and it's always a plus if you can find organic fruit that doesn't look like it has wax on it.
Whole nutmeg: You could also use pre-ground, but it is more fragrant and feels a lot cooler when you shave it on top yourself
Angostura Bitters: To be found in the "mixers" section of just about any major grocery store.
That's just about it.
The other suggested ingredient I have listed is saline solution which acts the same way that salt does in cooking. It helps to brighten up the other flavors without actually making things taste salty.
It's not entirely necessary, but takes your cocktails up just one more level.
You can do this by dissolving one part salt in 5 parts water and using a little dropper to add it to any drink, but it helps the most in drinks with lots of citrus like this Banana Daiquiri.
So go and mix this cocktail, and remember that the recipe is subject to your liking!
If you like it sweeter or get a batch of super sour limes (which does happen) maybe you need to add a bit more banana syrup. You could adjust the amount of syrup from 3/4 up to 1 1/4 oz based on your preference.
Always reach out to me if you have any questions, input or suggestions. I hope you like this one,
Cheers!
USEFUL LINKS: Shaking Drinks, Classic Daiquiri, Banana Syrup Recipe.
Bad Habit - A Banana Daiquiri
A refreshing tropical cocktail
Ingredients
1 1/2

oz

White Rum

3/4

oz

Lime Juice

1

oz

Homemade Banana Syrup

1/2

oz

Orange Juice

1

dash

Angostura Bitters

5

drops

Saline

-

(optional)

Nutmeg
Instructions
Add all the liquid ingredients to your shaker tin.

Add ice and shake vigorously for about 12 seconds.

Double strain into a chilled cocktail glass.

Grate a little fresh nutmeg over the finished drink.
Tag me at
@mydrinkinghobby
when you make this!